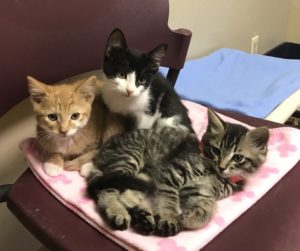 For Lost Our Home Pet Rescue, 2017 was filled with landmark moments and record-breaking achievements. We launched our first-ever capital campaign to raise $1.75 million to purchase and renovate the building we currently occupy in Tempe. We were so excited to announce the Home At Last capital campaign at our 7th Annual Champagne Brunch and Auction to a room full of Lost Our Home supporters. We were even more excited to share that we have received two monumental donations: $1,000,000 from an anonymous donor and $250,000 from the Rachael Ray Foundation! We are humbled by this generosity and proud to tell you that so far we have raised $1,550,000 towards our goal.
We look ahead to the historic milestones that 2018 has in store including the purchase and renovation of our shelter and our ten-year anniversary. Lost Our Home was founded as a community resource to provide compassionate services to pets and people in crisis and we have grown over the years through the involvement and support of our community. We are thrilled to make Tempe our permanent home and to continue to build partnerships to positively impact even more lives.
The renovations we will undergo this year will allow us to serve a greater number of pets and people in need by increasing our capacity as well as improving the living conditions and safety of the pets at the shelter through enhanced dog rooms, the addition of catios, a canine medical room, a fire sprinkler system and more. Lost Our Home Has made tremendous strides as an organization, but there is still work to be done and we can't wait to share our progress with you!