Support Us


Estate and Planned Giving
Make a Gift That Gives for Generations
Lost Our Home has achieved incredible successes in a short time supporting countless families and saving thousands of pets' lives. Creating a lasting legacy for our community, to enable us to continue this good and important work, can be accomplished through thoughtful planning.
Estate or planned gifts will ensure our impact will continue for generations to come. The easiest way to leave a lasting legacy in our community is by naming Lost Our Home in your will or trust. In addition, planning for the future care and love of your furry family members can also be accomplished by naming Lost Our Home in your estate and enrolling in our Lifetime of Care program.
We recommend consulting with an attorney in order to determine the best options for you to accomplish your philanthropic goals. Gifts of cash, stocks and securities, IRA or other retirement accounts, life insurance, or donor advised funds are several ways to support our work. Lost Our Home is a qualified 501(c)(3) nonprofit organization which may qualify you or your estate for taxable benefits. Our EIN is 37-1589959.
Please contact us if you would like additional information. If you have already made Lost Our Home a beneficiary, please share the good news with us so we may enroll you in our Legacy Society by either email at donations@lostourhome.org or by calling (602) 445-7392. Thank you in advance for your interest in creating a lasting legacy through Lost Our Home.
Sample Bequest Language:
"I/We give ( ) to LOST OUR HOME PET RESCUE, a qualified 501(c)(3) organization, located in Tempe, AZ, Federal Tax ID #37-1589959, to be used for general operating purposes or for the following program: (state the program) or endowment."
Lifetime of Care Program
Ensuring Your Pet's Future Without You
Our pets give us comfort, companionship and love. What happens to them if something happens to you and you're not able to care for them? Unfortunately, every year between five and seven million pets enter animal shelters due to the death of their owners. And, of these, approximately three to four million are euthanized when adequate homes cannot be found for them.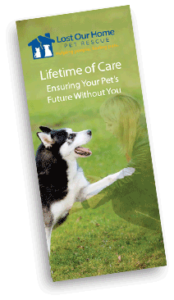 While no one can know the future, Lost Our Home provides a worry-free care option for your pets should they outlive you. Our Lifetime of Care Program guarantees placement of your pet in a loving home, offering you the peace of mind that you've done the most you can to ensure your love lasts for their lifetime. Enroll in our Lifetime of Care program today and take comfort in knowing that your pet(s) will receive the best care if you are no longer around to care for them.