My wife and I both grew up with dogs and neither of us could imagine living in a house without them. In fact, after we got married and settled into a house of our own, the first thing we did was get a puppy!
That was several dogs ago! After losing our Belgian Tervuren last November, we found ourselves dog-less for the first time, which compounded our sadness over our dearly departed canine friend. We weren't quite ready for a new puppy, but it just felt too weird not having a dog around.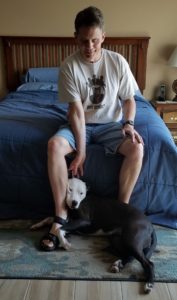 We decided to look into fostering, which neither of us had ever done before. It sounded like a win/win to us: We get to help out a dog in need, and in return, our house is no longer empty!
One of our friends from our dog agility classes recommended Lost Our Home. We contacted them and were immediately impressed with their organization and professionalism. Though we were experienced "dog people", this was our first time fostering and we wanted to work with a group that provided strong support for its foster families.
Lost Our Home did not disappoint. Everyone we have worked with there, including Molly, Verena, Lindsay, Susan, and Emily (to name only a few) are friendly, professional, knowledgeable, and have a passion for helping out dogs and cats in need.
They've done an excellent job of supporting us and have always made us feel much appreciated as fosters!
Since we started fostering last December, we have been able to give temporary homes to 7 awesome dogs (which means we've now fostered more dogs than we have owned)!
The hardest part of fostering for us is giving up the dogs once the foster period is over! That's why Lost Our Home's Temporary Care Program (TCP) has worked out so well for us. By fostering TCP dogs, we know that when the foster period is over, the dog is going back to its owner, who cared enough about the dog to put it in the TCP program in the first place.
Knowing the dog is going back to a good home makes surrendering the dog much easier for us! And it's great to know that we've not only helped a dog in need of a home, but we've helped a family keep their beloved pet through a time of crisis.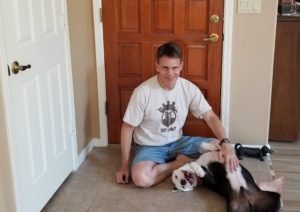 Thank you Brian & Anne for choosing to foster with Lost Our Home. We could not help nearly the amount of animals we serve each year without  dedication and the commitment from people like you!
If you've ever thought of becoming a foster family, we are always in need, but especially this summer. There is an increase in need while our headquarters is under reconstruction.
We have all ages and sizes of dogs and cats, from puppies and kittens to senior fur-kids available for fostering. We provide all of the supplies, food and anything you might need to help the animal during their stay with you. Whether it's just for a couple of weeks or up to a max of 3 months, we partner closely with our foster families and do everything we can to make sure it works for you.
Click here to learn more or sign up to foster. Happy tails to you!