Support Us


Home at Last Campaign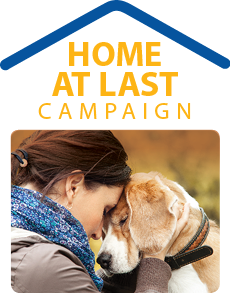 Please join us in the Home At Last Campaign.
The Home At Last campaign is Lost Our Home's first-ever capital campaign to purchase and renovate our building in Tempe. Our tails are wagging with excitement to share that we finalized the purchase of our building to sercure our purr-manent home. Now, we continue to raise the funds needed for our shelter remodel that will improve the safety, health and well-being of the pets in our care. We invite you to be a part of this effort through financial gifts that will enable us to grow and expand the programs that we offer, enhance the quality of care we provide to the pets and people we serve, and increase our impact in the community.
When you make a gift of $250, $500 or $1,000, you receive a gift in return: a brick on the Pathway of Hope—the walkway that guides pet lovers through Lost Our Home's adoption and temporary care areas. Fetch your purr-manent place in the shelter when you make your gift of $250, $500 or $1,000 today!
A message from our Founder and Executive Director, Jodi Polanski:
"Being involved with Lost Our Home Pet Rescue for the last 10 years, I have seen first-hand the difference they make in the lives of the pets and people they help every day. I am committed to the capital campaign and the remodel of the shelter because it will enable Lost Our Home to provide a better quality of care and assist more pets and people in crisis."
– Diane Scherer, Retired CEO,
Phoenix Association of REALTORS
"After touring Lost Our Home Pet Rescue, I knew Lulu's Fund needed to be a part of their capital campaign. Observing first-hand the passion and compassion shown for the animals and people this organization supports was truly inspirational."
– Sandy Day, Vice President,
The Timothy T. Day Foundation
"We fell in love with Lost Our Home: their mission, their work and their commitment to the best outcomes for pets and the people who love them. Their programs cover areas that are often unaddressed by other animal welfare organizations. We wanted to be a part of the significant movement to bring a top quality facility to the animals, volunteers and staff who call Lost Our Home…home."
– Jami Pryor, Real Estate Investor