Home At Last


Campaign Recognition Opportunities
Home At Last Campaign Naming Recognition Opportunities Are Available!
To recognize your generosity, Lost Our Home would love to honor you, your pet, or loved one with a special naming opportunity.
There are dozens of naming opportunities available to honor your contribution to this most important Capital Campaign.
$1,000,000 Opportunity
Lost Our Home Building: Centrally located in Tempe, Arizona, the 8,400 square foot building looks out on to South Hardy Drive. Red rocks and desert plants surround the welcoming exterior. Green grass frames the northern side of the front doors, inviting dogs to stop before entering. "Pet Adoptions" is proudly displayed above the double doors leading to the Welcome Home Lobby.
$250,000 Opportunity
(RESERVED) Welcome Home Lobby: The Welcome Home Lobby makes the initial impression of Lost Our Home Pet Rescue. This 725-square foot room features double front doors with windows on either side, letting in natural light to create a sunny, comforting environment. The lobby is the hub of Lost Our Home life. Guests are greeted by smiling front desk volunteers, friendly office cats and a welcoming home-like atmosphere. Windows on the north side of the lobby offer a view of the Kitty Cat Country Club where cats play, nap, and dream of their forever families. Doors lead to Whisker Row and Daley's New Leash on Life Neighborhood, and a large window looks into the Meet Your Match Adoption Center where visitors can watch as dogs find forever homes, play with puppy pals, and work on their skills with the volunteer trainer. Double doors lead into the Pet Food Bank where 17,000 hungry pets have been fed – pets whose families were otherwise unable to feed them and would have had to give them up. In the Welcome Home Lobby, adoptions are finalized, essential pet food and supplies are received, and fun and necessary items are for sale in the "ReTail Boutique Corner."
(RESERVED) A New Leash on Life Neighborhood: The Neighborhood encompasses all of Lost Our Home's dog adoption suites that will have windows and other home-like features. Improved suites will provide flexibility to create smaller or larger spaces depending on the size of dogs in our adoption program and the need. We will expand the number of adoption suites to increase our overall capacity to enable us to help more pets.
$150,000 Opportunity
Howler's Inn Temporary Care: Howler's Inn is home to the dogs in the Temporary Care Program and Low-Income Boarding Program. Howler's Inn is also a staging area for all of our adoptable dogs. Approximately 450 dogs will pass through the Inn in 2018 alone. Our Temporary Care Program provides up to 90 days of TLC for dogs when their pet parents experience a life crisis in which they are temporarily unable to care for their pet. This includes situations of domestic violence, homelessness, hospitalization, behavioral health issues such as PTSD, and more. For many people, their pet is their only family member. In our Temporary Care Program, we care for their pet when they can't, allowing the pet parent to get the help they need (stay in hospital, behavioral health facility, domestic violence shelter, homeless shelter, etc.), so they can regain their health/stability and move forward with their lives. When they are ready, they are reunited with their pet. This large space is connected to Daley's New Leash on Life Neighborhood (adoption center), the Kibble Café, and the Ruff Ruff Recreation Yards where the dogs exercise every day. Howler's Inn is central to everything dog-related in the shelter.
$100,000 Opportunities
Whisker Row: Whisker Row is home to all the adoptable kitties at Lost Our Home. Three rooms house up to 35 cats and kittens waiting for their forever families. Accessible from the lobby by a door graced by an artistic cat painting, the Portrait Gallery showcases pets who have been adopted from the shelter and provides a view into all three cat rooms. Beyond the adoptable cat rooms is the Purry Time Lodge and Catnap Cabin where cats in our Temporary Care and Low-Income Boarding programs spend their time.  Further down is the Catnip Wellness Center where kitties recover from illness and get healthy for their new forever families and the First Stop Feline Safe Haven where all of the adoptable kitties at Lost Our Home start their journeys.
(RESERVED) Pet Food Bank: Since opening its doors, the Pet Food Bank has fed more than 17,000 hungry pets in need and also provided many struggling families with necessary items like cat litter, leashes and collars for their pets. Because of the Pet Food Bank, pet parents are not forced to surrender their pets because they cannot afford pet food. This 500-square foot room leads directly into the Welcome Home Lobby and features floor to ceiling shelving. A large shelf down the center of the room was built by local Eagle Scouts. Every shelf is chock-full of pet food and supplies for pets and pet parents in need and for use within the shelter.
$75,000 Opportunity
Rover Retreat Medical Room: A safe haven for dogs experiencing any kind of mental stress or physical ailment, the Rover Retreat Medical Room offers care and kindness to pups who are not feeling their best. Quarantine is sometimes required for pets with communicable illnesses. Loving care is always under best medical protocol in sparkling clean and sanitary conditions.
Catnip Wellness Center: Cats can come to Lost Our Home from situations where their parents were unable to properly feed them or provide medical care. Sometimes they have suffered from neglect or even outright abuse. This space is where they can heal. Individual, multi-level kitty condos in the Center are kept sterile at all times. Staff lovingly tend to sick cats, aiding in their recovery with medication and necessary treatments.
Meet Your Match Adoption Play Park: This large room is a joyful place for dogs and people. The bright green walls with a park-themed mural invoke feelings of being outdoors with trees, birds and grass. Park benches line the back walls with a direct view through a huge window into the Welcome Home Lobby. Visitors can watch doggie playgroups and training sessions with our volunteer dog trainers, or can experience a meet-and-greet when a potential adopter brings in their own pets to meet a potential new family member. The Play Park has doors leading to both hallways in Daley's New Leash on Life Neighborhood, allowing direct access for dogs on their way to a playgroup or training session.
$50,000 Opportunities
(RESERVED) Kitty Cat Country Club: Forget your troubles in the Kitty Cat Country Club! This is the place where felines relax and play. This room houses 14 adoptable cats ready to forget past challenges and move forward into the next stage of their lives and into the embrace of forever families. Imagine a spacious cat wonderland of toys, hiding places and climbing opportunities. Shelves along the wall lead up to high perches perfect for catnaps. Cat trees and other cat furniture provide the perfect setting for meeting with potential adopters. Kitties are mentally stimulated by the view through a large picture window into the bustling lobby. Two more large windows lead into the hallway to watch potential adopters, volunteers, and staff as they pass by.
Volunteer Academy/Conference Room: This is the launching pad for volunteers where they are trained on how to socialize with, exercise and tend to the needs of resident pets. Approximately 180 new volunteers per month enter the Volunteer Academy and hundreds return again and again for advanced training classes. Here, animal experts orient new members of the Lost Our Home volunteer team and here internal meetings, board meetings and more take place.
First-Stop Feline Safe Haven: Every cat who comes to Lost Our Home starts their journey here. This is the first stop for kitties who come in to find a new home. Here, they get lots of attention from staff and volunteers while they await a visit to the veterinarian for routine medical care to prepare them for adoption to their forever families.
Ruff Ruff Recreation Yards: Fun and exhilarating, this is the place where every dog comes to play! Turf covers the ground for an authentic yard-like feel and wide shades cover the play area to protect the pooches from the sun. A misting system and fans blow cool water on to the pets and volunteers in the Pooch Playground, Fetch Field and Bark Park during Arizona's hotter months. Here pups can play, chill out in the pools, or spend quality time with a volunteer or staff member.
$25,000 Opportunities
(RESERVED) Tomcat Towers: Tomcat Towers is a safe, calm space for more mature and laid back adoptable cats. Natural light floods this bright and cheery sanctuary. Murals of trees and flowers cover the walls, adding to the outdoorsy atmosphere. There is plenty of room for adopters and volunteers to greet, love, and give generous attention to kitties while they wait to find forever families.
Volunteer Welcome Center: This is the area where volunteers begin and end all of their shifts at the shelter. With more than 400 volunteers and counting, this highly trafficked room is popular for all who come to volunteer their time. Whether it's to grab a refreshing glass of water or a quick snack, this space is inviting for the volunteers. Here, our volunteers can store their personal items, pick up their name badges and receive important information about upcoming events and shelter updates.
(RESERVED) Happy Paws Treadmill Room: A good run or vigorous walk on the treadmill is always a great way for the dogs of the shelter to start the day! Daily exercise is essential to the health and wellbeing of residents. Here pups spend one-on-one time with a volunteer, practice their leash skills and get a great workout. During the hot summer months, the treadmill provides an essential alternative to outdoor exercise, where paws can burn on hot pavement.
(RESERVED) Meow Manor (Kitten Nursery): What's more fun than a room full of kittens? This room offers plenty for kittens and visitors alike! Kittens romp freely in this brightly painted room decorated with whimsical wall murals. Many cat trees and other exciting places to climb and hide allow kittens to interact and play with each other and a variety of toys. Floor-to-ceiling windows make for a bright and cheery space. Kittens play and sleep as they please while they wait to find families to grow up with.
Purry Time Lodge: This is a purr-fect place for cats to roam freely or enjoy the solitude of their kitty condos as they choose. Participants in the Temporary Care Program reside here. With soft bedding and lots of toys to occupy their time, these cats won't miss the comforts of home while they wait to be reunited with their families.
Catnap Cabin: Families that cannot afford the costly accommodations of traditional boarding facilities deserve to have peace of mind when they are away and know that their feline family members are getting the best care. Our Low Income Boarding program provides a home away from home where visiting kitties will receive just that until their loved ones return.
(RESERVED) Director's Office: In this bright, cheery office, sunshine streams in. Cats or dogs roam freely and many meetings with volunteers, donors, and staff members take place. The Director's office is visited by community leaders and all who make, or will make, an impact on Lost Our Home Pet Rescue's success.
Kibble Café: The kitchen is the center of any home. Staff chefs make meals for every pet here. Nutritious food (and treats!) for all the residents, as well as bowls, dishes, and other basic supplies are stored here. The busy kitchen is the gateway from the dog side of the shelter to the cat side. Touring guests headed to the dog wing always pass through this room.
Volunteer/Medical Office: The Volunteer/Medical Office is located on the northwest side of the Welcome Home Lobby. Central to daily operations, in this space the Volunteer Services and Medical Manager oversees Lost Our Home's volunteer program, which has more than 400 participants, and they develop and implement medical protocols to ensure the health and wellbeing of all of the dogs and cats at the shelter.
Healing Paws Cat Cottage: In a shelter environment with community cat rooms, it is critical to have an isolation area where cats who exhibit symptoms of contagious illnesses from upper respiratory infections to ringworm and more can be treated. In the Healing Paws Cat Cottage, cats are housed in a peaceful room in medical condos that limit exposure to ensure that each cat recovers as quickly as possible.
$20,000 Opportunities
Adoption Dog Suite – Large: Spacious is the word for these dog retreats, and their favorite toys, beds, and blankets make them homey. Adoptable dogs dine, visit, and cuddle with volunteers, and receive enrichment activities such as frozen Kong toys and various games, all in the comfort of their own home.
A-B-C Library: Our Animal Book Club (ABC) invites children ages 6 years and older to practice their reading skills at the shelter. Dogs listen without judgment as they happily receive undivided attention, love and cuddles. Located in the Meet Your Match Adoption Park, a separated area with a "library look", shelves filled with doggie-approved books, and a comfortable sofa, are all perfect for snuggling with a canine companion. Volunteers of any age are welcome to curl up in the A-B-C Library with a good book for some quality time with their favorite pups.
$15,000 Opportunities
Hotel Dog Suite – Large: While their pet parents are getting back on their feet after a life crisis, up to two doggie siblings can stay in the comfort of a large Hotel Dog Suite. This space has room for blankets, bedding, food and water for each dog. This is their personal space while waiting for their pet parents to return to them. Here, they interact with volunteers, rest and relax during their temporary stay at the shelter.
Cat Gardens: The cat gardens are directly accessible to cats in every cat room, and offer fresh air, sunshine and an outdoor element. Adoptable, Low Income Boarding, and Temporary Care kitties are able to warm themselves in the sun and enjoy the fresh air of the outdoors while they wait for their forever families to adopt them or bring them back home.
Adoption Dog Suite – Small: Adopters walking down the hallways in Daley's New Leash on Life Neighborhood have a view into these suites where dogs looking for forever families wait to meet them. These rooms are unique for each dog who stays there. Each room is personalized with each dog's favorite bed, toys, and blankets to make the room their own.  The dogs can view the hallways through glass doors and windows, and they can enjoy a meal, playtime or snuggle with a volunteer in their home.
$10,000 Opportunity
Hotel Dog Suite – Small: This smaller suite is the perfect size for an individual dog or two smaller dogs. It allows the dogs their own space to relax, play, and enjoy their meals while they wait for their families to be able to care for them again. Although their stay is temporary, they enjoy all the comforts of home while they stay at the shelter and this small suite is a cozy reprieve from play and exercise time.
Rover Retreat Outdoor Respite: This outdoor yard is accessible from the Rover Retreat Medical Room and offers an exterior space where sick pups can stretch their legs and get some fresh air while they recover from illness.
Executive Suites: These offices are located on the south side of the shelter off of the lobby and along the pathway to the Volunteer Academy/Conference Room and the Volunteer Welcome Center. This well-traveled area has five separate offices for staff. The environment conveys a sense of the purposeful compassion of all who are working hard to help the pets of Lost Our Home.
$7,500 Opportunity
Little Kitty Library: There is nothing better than snuggling up with a good book and a kitty on your lap. The Little Kitty Library, located in the Kitty Cat Country Club, is filled with kitty-approved books. Here volunteers of all ages are encouraged to sit with a cat and read aloud, bolstering young readers by helping with their confidence and giving the cats the one-on-one time they crave.
$5,000 Opportunity
Display of Honor: Thanks to those named here, more pets can be saved from challenging circumstances, families are able to get back on their feet and reunite with beloved pets, and hungry pets are fed. Visible to everyone at the shelter, honorees displayed here are celebrated by those participating in Lost Our Home programs, adopting a pet, volunteering or simply visiting.
$2,500 Opportunity
Display of Honor: This display lists people who care deeply for the pets at the shelter. A place here symbolizes your support of every pet who walks through the doors at the shelter to have a better life full of love, care, and happiness.
Paving the Pathway of Hope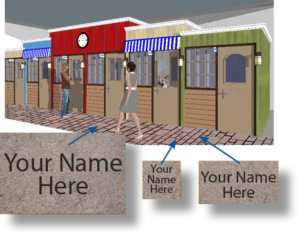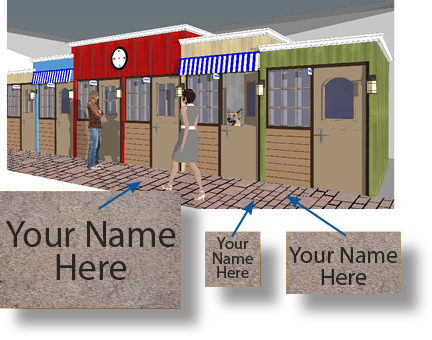 Donate a Brick and Share the Love
Leave a legacy on the Pathway of Hope—the walkway that guides pet lovers through Lost Our Home's adoption and temporary care areas. Fetch your purr-manent place in the shelter, a lasting impression showing your commitment to helping pets and people in crisis. Reserve your brick on the Pathway of Hope today!
$250
(3.5" x 3.5
" 
recognition brick)
$1,000
(12
" 
x 8
" 
recognition brick)
Recognition brick sizing is approximate.